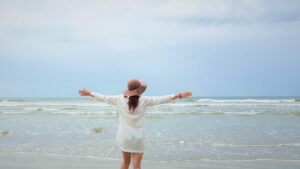 Hypnosis for changing your life
Hypnosis is a powerful tool for helping you to create the change you genuinely want in your life. It is the gentle art of guiding you into a completely relaxed state of being called trance. This is where your unconscious mind is in the driver's seat. Whilst you are in the trance state, we work with you to bypass the critical faculty (the conscious mind) and talk to the unconscious mind.
Using the power of suggestion we alter your beliefs about reality by making simple yet persuasive statements. When you are in hypnosis you are accepting of thoughts, concepts and ideas that are OK by you and consistent with your values. Basically, you cannot go into a trance state if you don't want to, and you will not agree to do anything you wouldn't normally do in your waking state, so you are perfectly safe.
Hypnosis is a medically proven method. A very powerful and simple tool, that can help make big changes in your life. Toni works with clients for Weight Loss, Eliminate Stress, Temporary Pain Relief (Childbirth/Tattoos/Dentistry), Relaxation and Performance Enhancement, which can include enhancing Sleep, Time Management, Self Love and Confidence.
NLP Therapy
What is NLP?
Neuro Linguistic Programming (NLP) is a proven set of self development techniques and strategies that allow you to create the life you want and develop behaviours to effect real change.
Our patterns of behaviour include not only our actions but also the way we think and how we process and organise our thoughts. The focus on NLP as a discipline is in finding and creating better personal patterns and modelling them to improve communication and bring about change in yourself and others around you.
Using NLP strategies Toni can help you move from grief, anxiety and depression to calm, confidence and acceptance. There are strategies for overcoming or achieving just about anything you want!
Personal NLP Therapy/Coaching sessions
Transform grief, anxiety & depression
Explore your identity through techniques that express the innermost core of who you are

Learn to truly love yourself &

express your authentic self
Empower your soul & let go of negative emotions such as fear, anger, shame, guilt, grief and sadness so you can heal your past
Recognise & release your limiting beliefs that hold you back, so you can move forward into calm, confidence and acceptance

Improve your performance in areas where you are out of balance & achieve your goals

Evolve by connecting to your inner power & create your own life
Are ready to make a change?
Book in with Toni for a free 30 minute chat regarding the change you wish to make and to see if you are the right fit. From there she will schedule in a time for your first Hypnosis or NLP Therapy/Coaching session.
Call or book a time with Toni today for a chat and get started on your journey to becoming calm, confident and connected!
Testimonials
"Toni is a breath of fresh air. Her presence and energy is that of calmness, depth and love, that allows one to feel at ease instantaneously. Toni's connectivity & wisdom are beautiful qualities that will guide you to clarity & personal empowerment with grace & authenticity. A lovely nurturing experience. Thank you Toni." Lena
"Thank you so much Toni for your help and support at a really difficult time. The NLP helped me to work through issues , especially with it's practical application. And I will be booking in for massage and energy work in the near future. All the best." Mary
"I have attended this tranquil business over the last 7 months and have definitely felt a vast improvement in many areas of my life and especially my anxiety. From receiving Reiki, Hypnosis & NLP sessions, I always come away with a sense of calm and float all the way home (I don't even check my phone till I arrive home…) Toni assists in relaxing and slowing my busy brain, along with calming my self sabotage. She always instills something new in me at each visit, whether it be a gentle hint or tip, facing me with the truth which we all need to address sometimes and she delivers it in the most genuine and caring way. I look forward to my visits as I know I will learn more about myself and how to be more positive and at peace. I thoroughly recommend Toni to anyone that is looking to improve their life as she is real and what Toni practices and guides clients through is so beneficial to us all." Sonia
"I have been struggling with some issues in my life. I met Toni and I felt a warmth. She has also been open and honest. She has maintained a professional and open platform for our appointments. She has been non judgemental and offered a safe place to talk. I feel that I am making progress with our sessions. And yes I would recommend her to others." M.T
"Toni is professional, caring, easy to talk to and great at what she does. Highly recommended." Allan 
"Toni is a kind and gentle lady. I really appreciated her guidance while she helped me connect to my inner- self and discover where I need to establish balance in life. Toni also gave me the ability to identify any limiting beliefs that I had so that I could change them into empowering ones." Katy
"I saw Toni for hypnosis, mostly for bad eating habits and poor food choices that I have consciously been wanting to change but haven't been able to have any motivation to do. Have tried on and off for many, many months. Particularly for weight loss but most importantly for overall health, energy, vitality. So far really happy with the results. I have effortlessly been eating healthy, portion controlled meals and also being organised with healthy snacks if on the go. It's just come so naturally and I haven't desired the same unhealthy foods. Have already lost weight in under a week!" Maria
"Toni has a wonderful voice for Hypnosis and amazing insight. I will absolutely be going back to see her." Ronnie